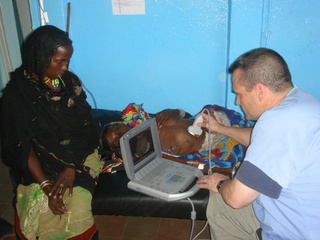 Why Gospel for Ethiopia?
My name is John Udall. I am a physician from Clemson, SC. I am an unlikely person to start a ministry to Ethiopian pastors as I have no formal theological training and have only been a Christian since 2001. I would like to tell you the story of how God is using me to achieve His purposes in Ethiopia.
In February 2006 I participated in my first short term medical mission and my first trip to Ethiopia. This trip to Awassa was under the direction of the Christian Medical and Dental Association (CMDA). Though under the capable leadership of Dr. Sam Molind, this trip was plagued with poor support by local Ethiopians, which led to many difficulties including chaos, rioting , and ineffectual evangelism. I determined after this trip, that I would not be returning to Ethiopia any time soon!
Little did I know that God had other plans. A few months after returning home, God impressed on me that I needed to return. In February 2007 I returned to Ethiopia with CMDA and took my daughter Jessie along with me. An indigenous ministry called Great Commission Ethiopia Ministries (GCEM) was now working with CMDA. GCEM organized a conference for local pastors. Dr. Molind brought 2 pastors from the US on this trip to conduct this pastor's conference in the small town of Yabello. Approximately 100 pastors attended this conference giving me my first chance to meet Ethiopian pastors.
Jessie and I have since returned to Ethiopia for medical missions in 2008 and 2009. Each of these trips has also included a pastor's conference. The 2009 conference had over 300 attendees.
These experiences have allowed me to meet and get to know many Ethiopian pastors. I have been impressed with their love of God. I have seen their faithfulness even in times of personal need and persecution. I have seen how these men are the foundation on which Ethiopia can be transformed by God's Holy Spirit.
The pastors in Ethiopia, though, are lacking theological foundation and education in the basic skills needed to be effective pastors, church planters, and evangelists. They desire to be taught! They desire to study! They desire to be more effective hands and feet for Christ in Ethiopia. That is why they flock to pastor's conferences wherever they are held.
There are several problems for these pastors. First is a lack of materials both theological and practical for them to study. Second is that almost all material available is not in their Amharic language. Third is that there are no regularly scheduled conferences or teaching venues for them. Groups like CMDA do conferences but there is no mechanism for follow up nor do they return to the same location year after year.
I have been impressed with the medical needs in Ethiopia and in fact in early 2009 I was looking at opportunities to do full time medical ministry in Ethiopia. Again, God had other plans! I became deeply impressed with the greater importance of the spiritual needs in Ethiopia than the physical needs, though those needs are enormous. It became clear to me that everything I had experienced on my many trips to Ethiopia, the people I had come to know, and God's guiding hand led me to this ministry, Gospel for Ethiopia.
In Him,
John Udall